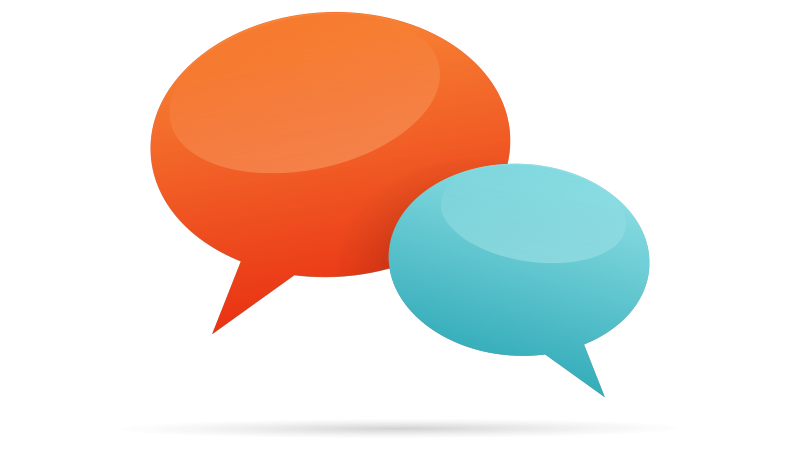 Blog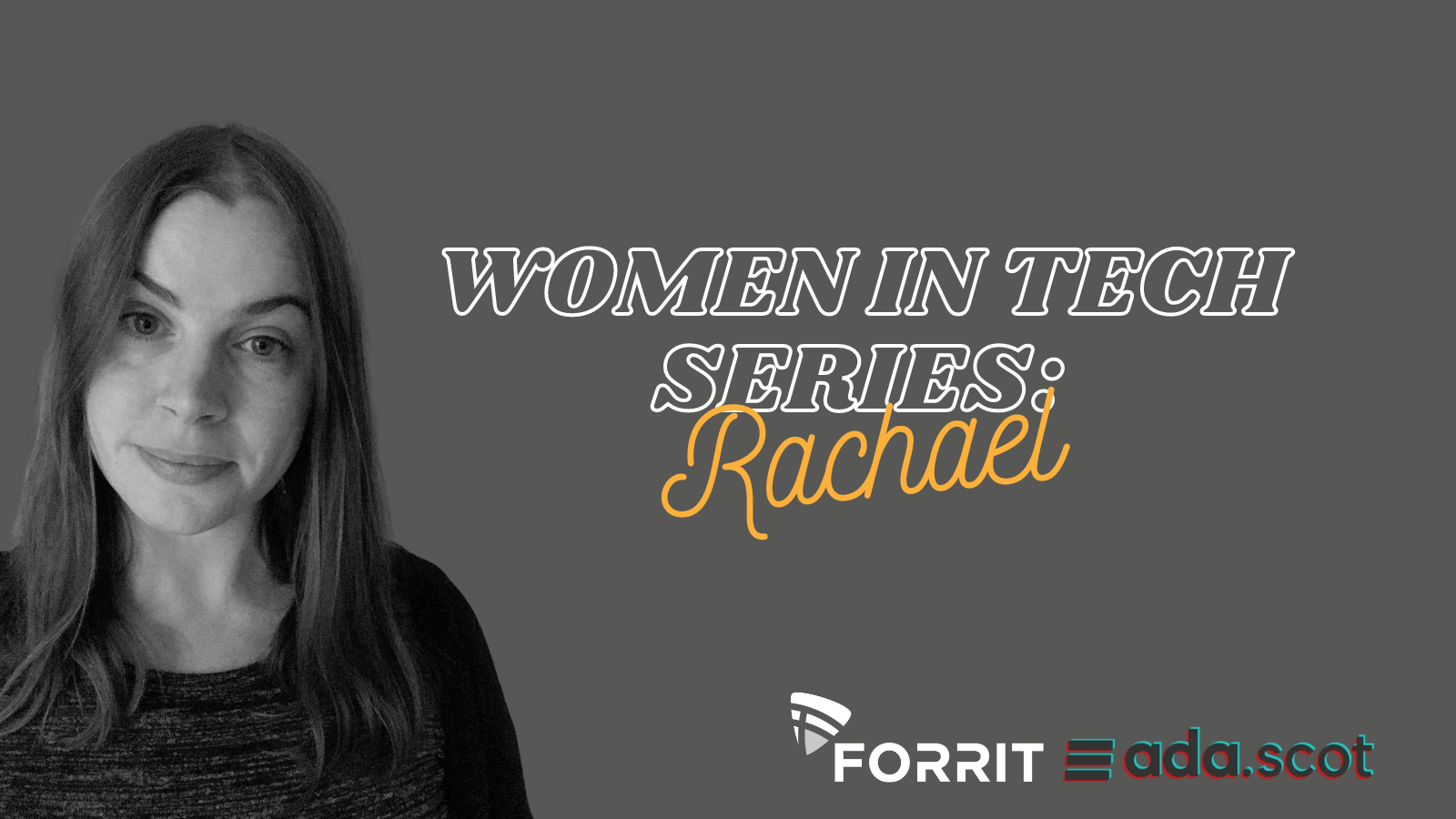 Q&A with Rachael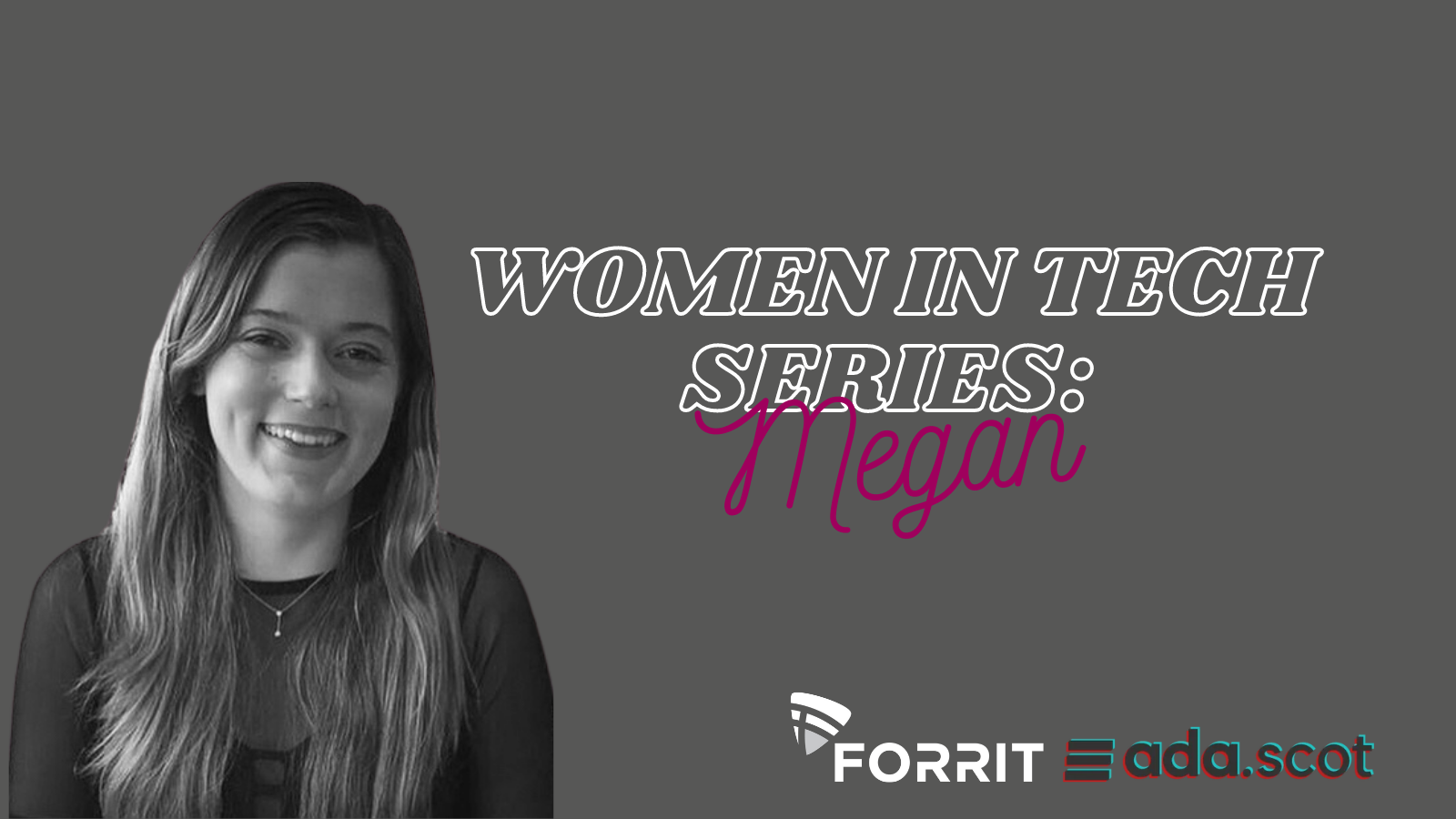 Q&A with Megan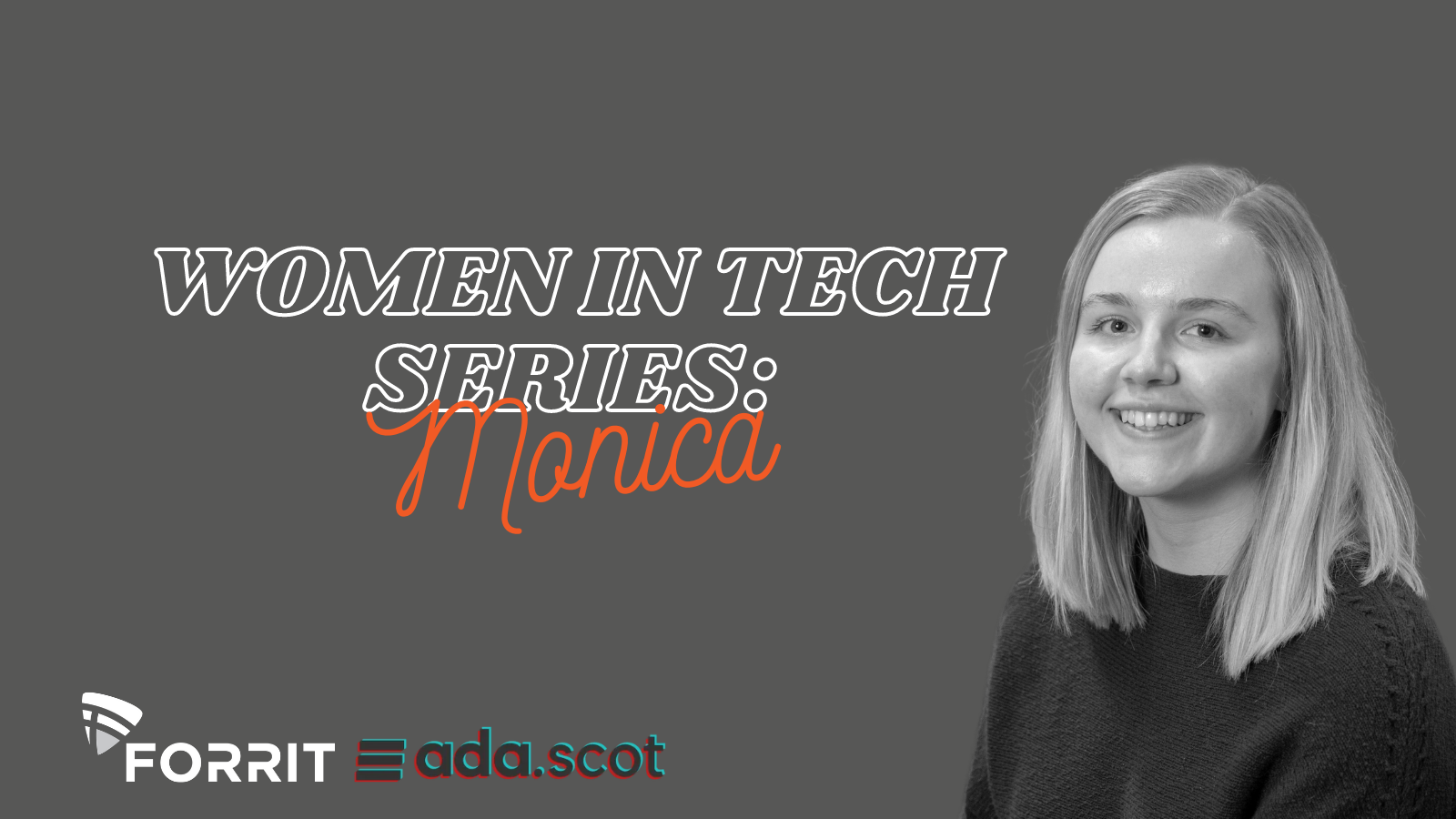 Comment: Attracting women to tech and retaining them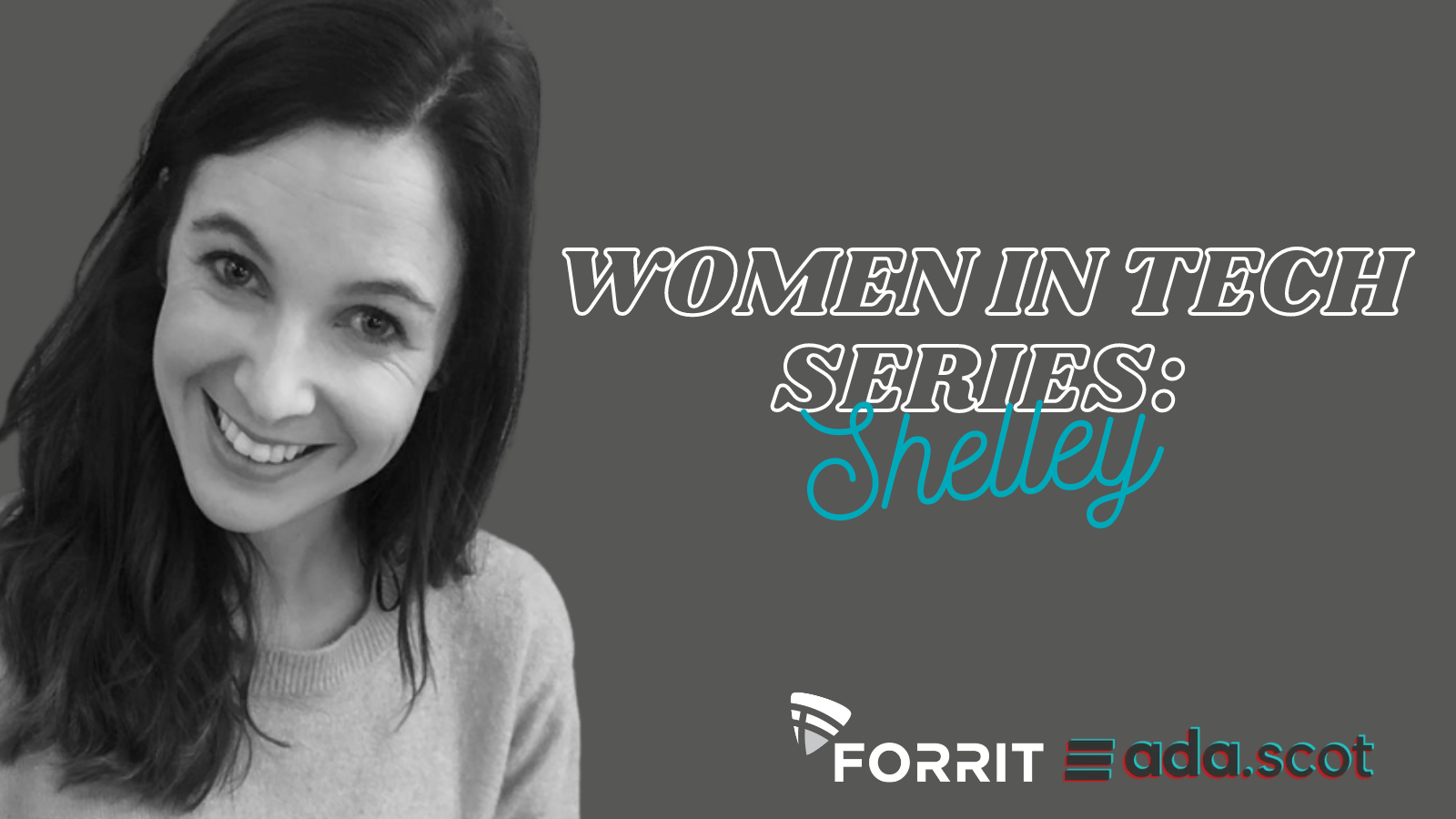 Q&A with Shelley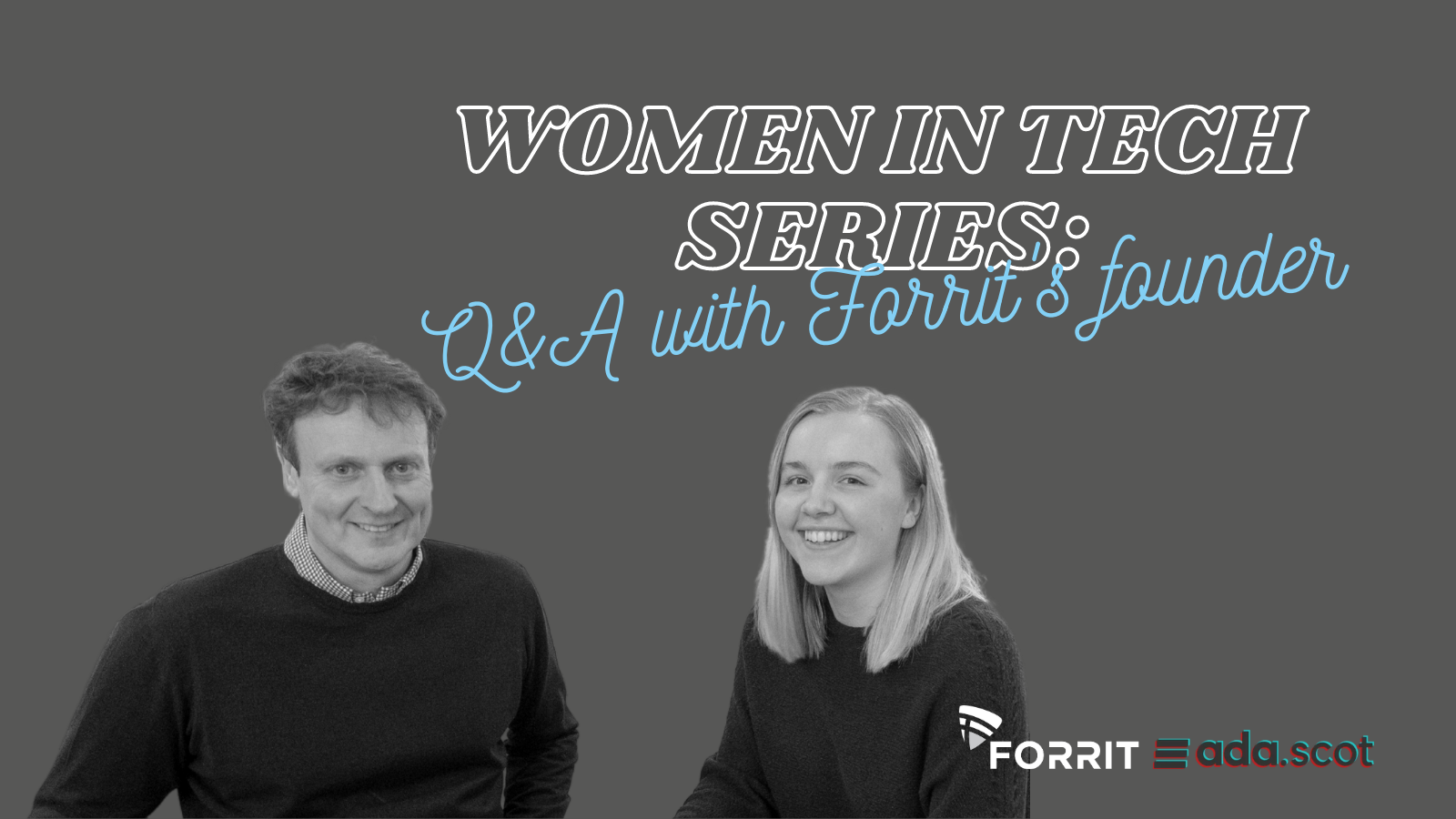 Q&A with Forrit's founder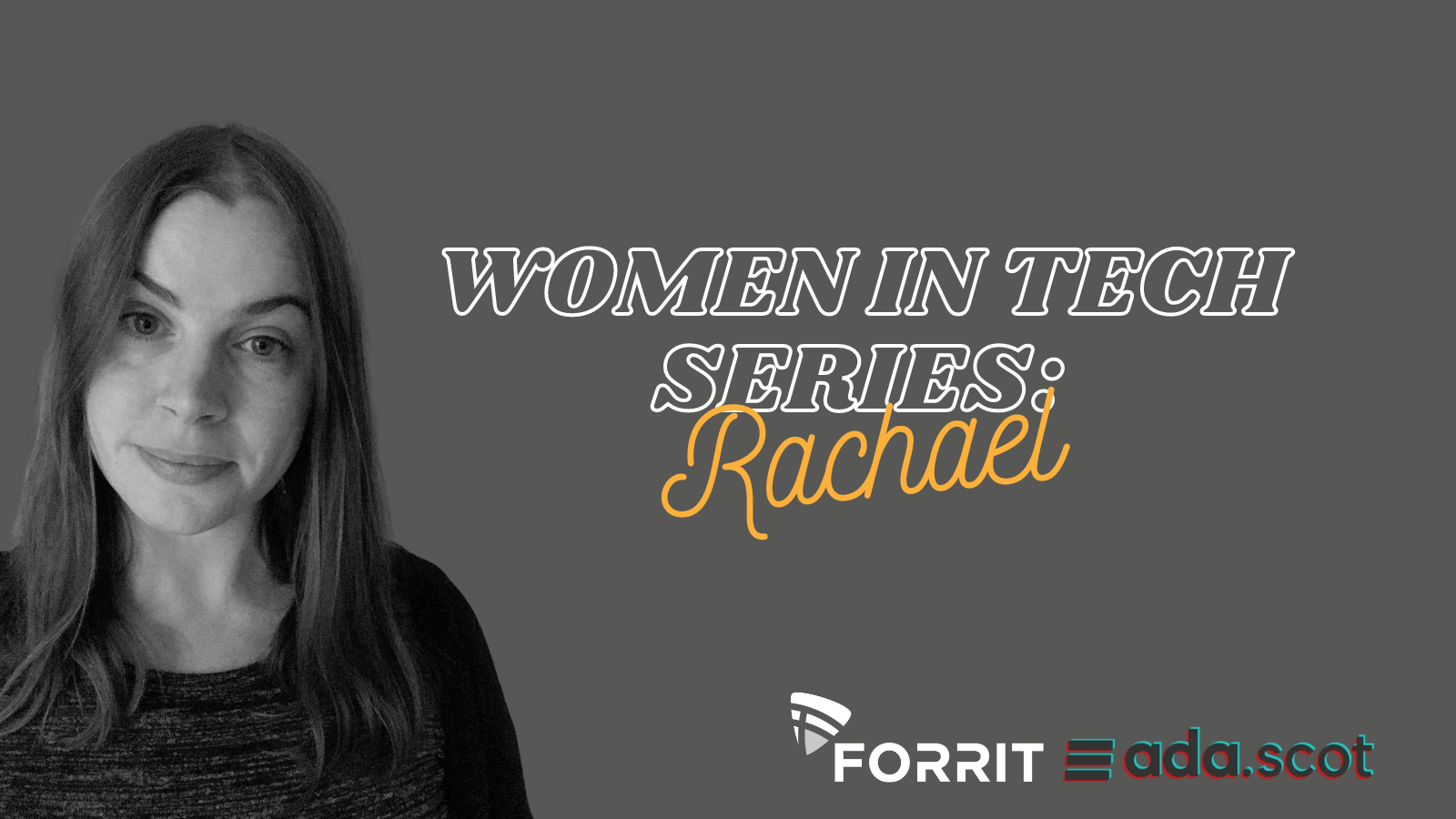 Q&A with Rachael
Can you share a little bit about what you do at Forrit and what a typical day for you is like?
I lead the Project Management Team at Forrit; together with developer and QA colleagues, we're responsible for orchestrating the delivery of web build projects. I'm also studying a postgrad degree, MSc Data Engineering.
A typical day includes many planning and discovery meetings, coordinating deliverables, liaising with creative and technology partners and checking-in with teams to ensure projects are tracking to schedule. Our clients are spread across the globe, so calls at the start of the day tend to be with contacts in Europe and as the afternoon closes in, we'll meet with associates in Seattle and LA. MS Teams, Azure DevOps and Jira dominate my screen time.
Did you always know that working in technology was what you wanted to do?
Not at all, although I did always enjoy STEM subjects. One of my favourite school projects was programming a control circuit that represented a city's road traffic system, but I regarded IT as a minor subject back then, so when it came to choosing subjects I didn't consider it as an option, I'm not really sure if my school offered IT past year 9.
What experiences led you to technology as a career?
It was in my early twenties, when I started tinkering with web languages and ActionScript, that I realised that this was something I was fascinated by and wanted to learn more about, from there I went on to study an undergrad Degree in Computing and a few years later a Masters in Digital Leadership. I've been inspired by many tutors and colleagues along the way.
What advice would you give to women considering a career in the tech industry?
There's such a wealth of opportunities in this evolving industry, just go for it! Whether it's engineering, strategy or research, there's so much to be discovered and invented – and that's exciting!
What do you wish you had known?
Just how instrumental technology would become to every aspect of our lives. There's huge value in promoting the wide range of opportunities that a career in STEM can unlock and I didn't fully appreciate those possibilities when I was first starting out.
Why is diversity in technology important?
Being able to collaborate with a diverse group of individuals with differing opinions and ideas will always be a catalyst for creativity and new concepts. Bringing people together from a range of backgrounds helps to challenge preconceptions and generate original thinking.
Do you notice a lack of women in technology? If so, why do you think that's the case?
Yes and no. In software development/programming and C-suite roles, most definitely yes. When it comes to strategy and management roles, I think the gender balance is beginning to level, but there continues to be a limited pool of new talent and the most senior positions are still largely held by men.
By continuing to promote STEM subjects to young people and supporting people throughout their working life, so that career prospects don't take a hit once family life changes, it will help close the gap further.
What do you believe women need to know/hear/see to consider technology as a career option?
Mentors and leaders who advocate STEM are incredibly valuable, whether they're teachers or public faces. Understanding that this is an industry for everyone by showcasing examples of great thinking from a wide range of people is crucially important.
What is some advice you would share with women entering the technology industry?
Be confident in who you are, collaborate and bring new ideas to the table. Your knowledge and opinion is valuable, use it. Continue to learn new things as your career and technology evolves.
Seek-out likeminded people and speak to those already working in the sector. I've met and been inspired by many people whilst attending events such as Web Summit over recent years. There are industry events happening all of the time, mainly online right now, so it's easy to access thought-leadership talks from industry experts all over the world.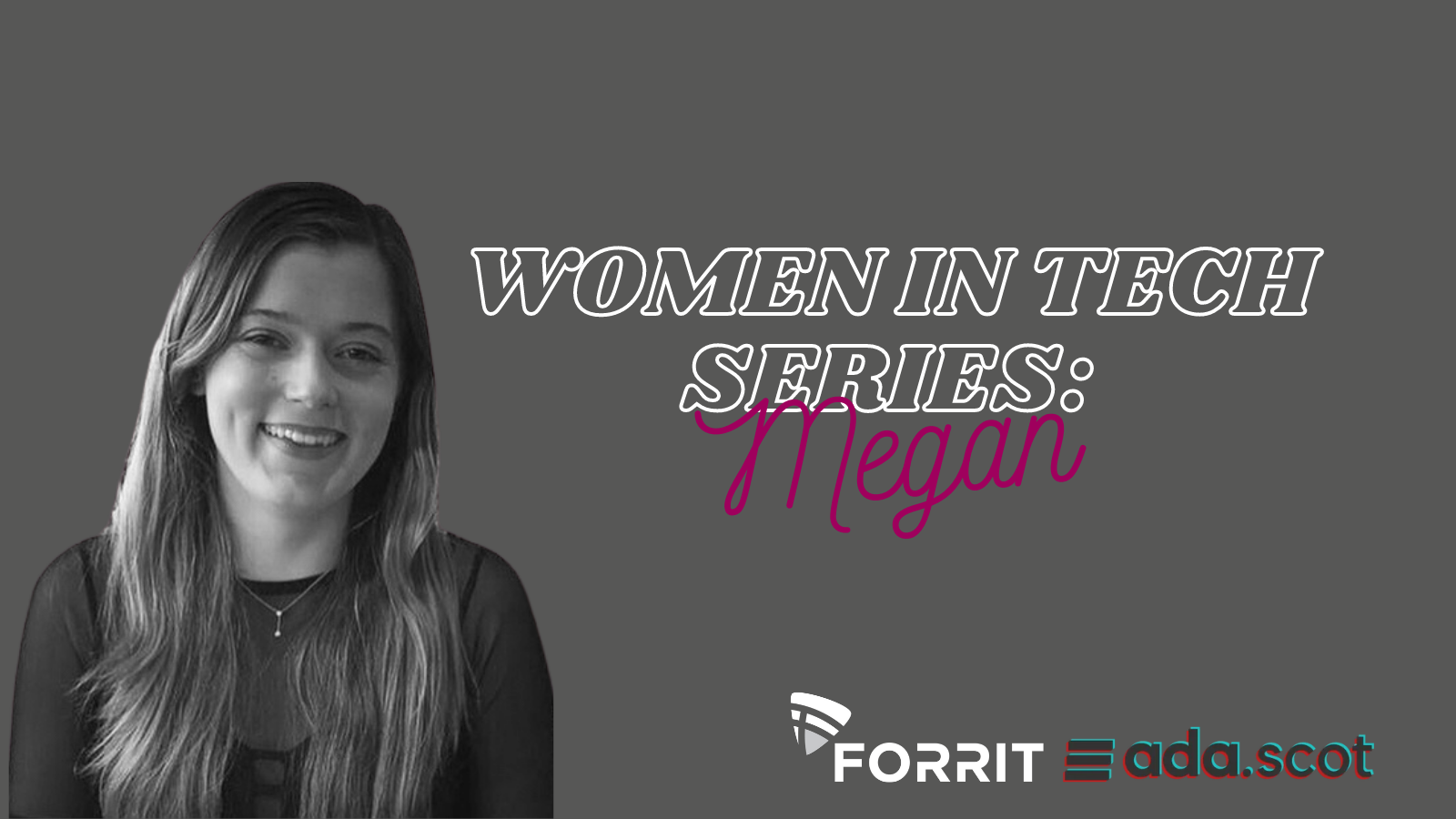 Q&A with Megan
Can you share a little bit about what you do at Forrit and what a typical day for you is like?
I am the Project Manager for one of Forrit's largest clients. I collaborate with our technical team to ensure successful delivery of our client's requests and liaise with our client to understand their business needs and timelines.
My role requires me to be very organised and know all the moving parts of the project so that all pieces of the overall picture slot into place as smoothly as possible.
A typical day for me starts with morning stand up where I run through the priorities for that day with the technical team and they share status updates for the tasks they're working on. Throughout the day, I have calls with the client's Technical Lead to catch up on larger pieces of work and discuss wider project plans. Between calls, I am available to the team to answer any non-technical queries relating to ongoing tasks, I update/create documentation for the project to identify improved ways of working and I prepare for calls with our client in Seattle in the evening.
Did you always know that working in technology was what you wanted to do?
Definitely not! When I was a kid I wanted to be an Olympic Swimmer or work for my Dad (I thought he was a spy). As I grew older and started thinking about life after High School, I realised I really enjoyed Biology – specifically everything to do with the brain. So, I went to University, studied Neuroscience thinking that I wanted to be a researcher and it wasn't until my final year at University that I really realised that this path wasn't for me. The things I enjoyed most about my degree were communicating with my classmates, organising and executing projects and presenting to peers and lecturers. I realised that there was a whole world full of jobs that I didn't even know existed… so I decided to see what was out there.
I was a bit lost after I graduated University – I knew the things that I enjoyed doing but had no clue what that translated to in the job market. After having many coffee meetings, hearing the advice of those much wiser and more experienced than myself, I decided to start looking for careers in Project Management and Client Services. Most people I had spoken to worked in the technology sector and given my STEM background, I started to look into the industry as a career path. The more I exposed myself to, the more interested I became and so I thought I should give it a try – what's the worst that could happen?
Who inspired you and why?
My parents inspired me, by reminding me not to be afraid to try new things and that I don't need to know what I want to be when I grow up because no-one ever really does. My Dad's old mentor, Ailsa, grabbed a coffee with me one day and she was so inspiring. She'd achieved so much in her career; she was excited about where she was taking her career next and had a passion and motivation that I admired greatly. That coffee meeting was one of the moments that really inspired me to pursue this career path.
What advice would you give to women considering a career in the tech industry?
Go for it. If it's something that interests you and you want to explore the sector as a career path then do it! Reach out to your connections on LinkedIn, set up coffee meetings and start picking people's brains. Most people are happy to help, it's finding the confidence to ask that's the hardest part. It's the best way to get a grip on the industry and although Google is super helpful – sometimes you just can't beat a conversation!
What do you wish you had known?
I wish I had known that it's completely normal to feel overwhelmed and out of my depth at the start, I think that applies to any field (not just technology), but it's something that caused me to wonder if I had made a mistake. Get a good mentor, whether it's someone in your workplace or through networking, just find someone you can talk openly with so that they can support you, guide you and tell you that you're doing just fine and to breathe… but who can also shake some sense into you!
Why is diversity in technology important?
I think diversity in any sector is important. If you saturate a field with people from the same background with the same life experiences, then you're only going to produce ideas and products that speak to those people. It can create an echo chamber that stunts growth and opportunity for the business and everyone in the field. Diversity brings people from all walks of life – it opens the door to talent, communication and insight that isn't restricted to one defining factor such as ethnicity or culture.
Do you notice a lack of women in technology? If so, why do you think that's the case?
I do notice the lack of women. I think it's improving but with everything, that takes time. I think the cause is multi-layered. During school, STEM subjects can traditionally be more male dominated with females dropping the subjects early. The young women who continue with these subjects can be discouraged, underestimated and dismissed if they don't fit the 'traditional' mould. If these women move into further education (university, apprenticeships etc.) they can still find themselves facing the same hurdles they faced in their early years, only now it's beginning to become clear that this isn't an early years issue but an industry issue. If these women complete their qualifications and start working in the sector, then they can find themselves having to work harder and longer to establish themselves. Sometimes these women can feel so defeated and tired that they choose to leave the industry.
What do you believe women need to know/hear/see to consider technology as a career option?
I believe the technology sector needs to show that it is actively changing from the inside to increase diversity, address the gender gap issue and make the sector a more viable option for women. The focus and responsibility should not fall onto high school girls needing to take STEM subjects but more focus on the industry making itself a great career path for women. Women are twice as likely to leave than their male counter parts and until we can understand why, we can't improve the situation and make this a long-term career option for more young women.
What is some of the advice you would share with women entering the technology industry?
Trust your voice. You're not going to know everything (or really anything at the start!) so don't be afraid to ask questions and gain as much knowledge as possible. As you progress in your career use that voice to have your ideas heard, your judgement respected, and your knowledge shared. It can be hard not to feel drowned out at times or second guess yourself due to the stigma that comes with being a female working in a male-dominated field. At the end of it all, you're the only one who's going to make yourself heard. So, use your voice and trust it.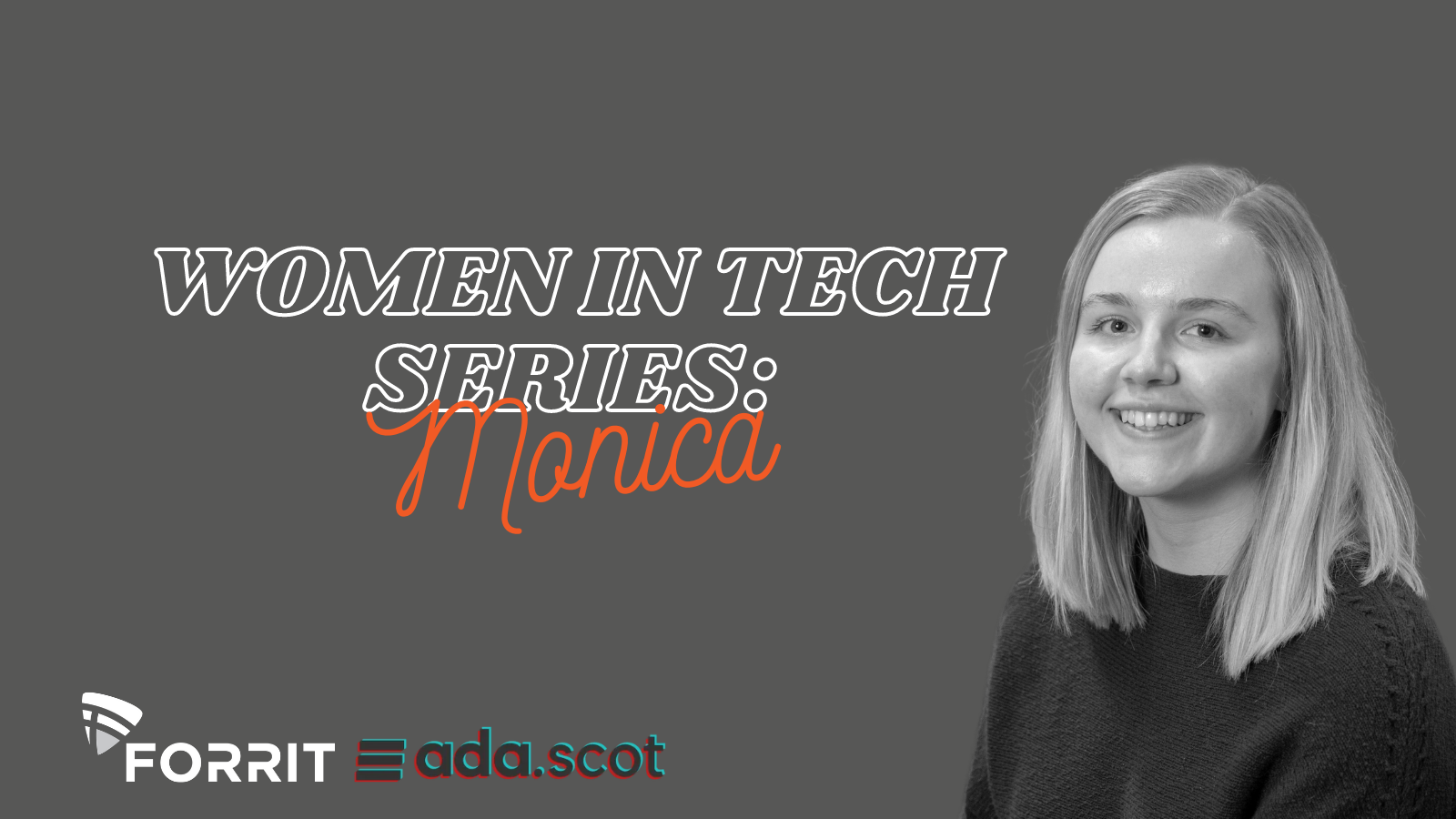 Comment: Attracting women to tech and retaining them
As a Graduate Apprentice at Forrit, I work full-time as a Web Developer for one of the company's largest clients. I also study part-time at Edinburgh Napier University and am set to graduate next year with an Honours Degree in Software Development. So far in my apprenticeship, I have gained three Microsoft Technology Associate qualifications, as well as invaluable industry experience – with highlights including a trip to the Microsoft Redmond campus in Washington last year.
When I consider the subject of women in tech, I think of the first developer I ever met, when I was 15, on a work experience placement. Her name was Emma and she told me that you could build anything if you knew how to code.
I'm not sure Emma will ever know how much she impacted my life. I realise I was extremely lucky in this case. Women make up only around 17 per cent of overall IT jobs in Scotland, making female role models for young people relatively hard to come by. Of course, this doesn't mean they're not there, and we've seen some incredible trailblazers emerge in the Scottish tech community. One of the many who have inspired me is Toni Scullion, a computing science teacher who has taken the technology gender gap into her own hands by founding dressCode, a non-profit charity that teaches girls aged 11-13 to code.
Discussions around the gender gap in technology tend to focus on encouraging women at school age to pursue careers in science, technology, engineering and math (STEM) – and as a Graduate Apprentice at Forrit I have enjoyed visiting schools and discussing the benefits and alternative routes to a career in technology with students.
However, I believe it is also important to consider why so many women who begin careers in technology end up leaving. According to the National Center for Women & Information Technology in the US, women in tech roles are more than twice as likely to quit than their male peers, particularly within the first few years of their career.
By focusing the conversation on the lack of women studying or working in STEM without asking why, we risk promoting the stereotype that women simply "aren't interested" in STEM, shifting the blame for the gender gap onto women themselves. We also risk wasting all the incredible work being done to encourage young women into the industry.
According to the latest statistics from the Higher Education Statistics Agency, there has been a 20 per cent increase in the number of female computer science graduates in the UK in the last three years. Despite this, Wise (the UK organisation that campaigns for greater gender balance in STEM) reported a decrease in the number of women employed in tech last year.
Since I joined the company in 2017, Forrit's workforce has nearly doubled, with almost a quarter of the workforce now made up of women. As part of Forrit's ongoing commitment to a diverse workforce, the company is a signatory of the Tech Talent Charter (TTC). The TTC is an employer-led initiative to encourage greater diversity in the technology workforce of the UK and has been supported by the UK Digital Strategy since 2017.
As a Microsoft Gold Partner, Forrit is also a signatory of the Microsoft Partner Pledge, supporting Microsoft in its key goals, which include promoting digital skills, creating more apprenticeships and improving diversity in the UK technology sector.
We need more employers like Forrit, who acknowledge their responsibility to proactively bridge the gender gap at industry level. The problem lies not in gaining women's interest in tech, but in maintaining their interest in a technology career – which requires employers, as well as educators, to play their part. We need to foster diverse workplace cultures of equal opportunity, and ultimately make technology a better sector for women to work in.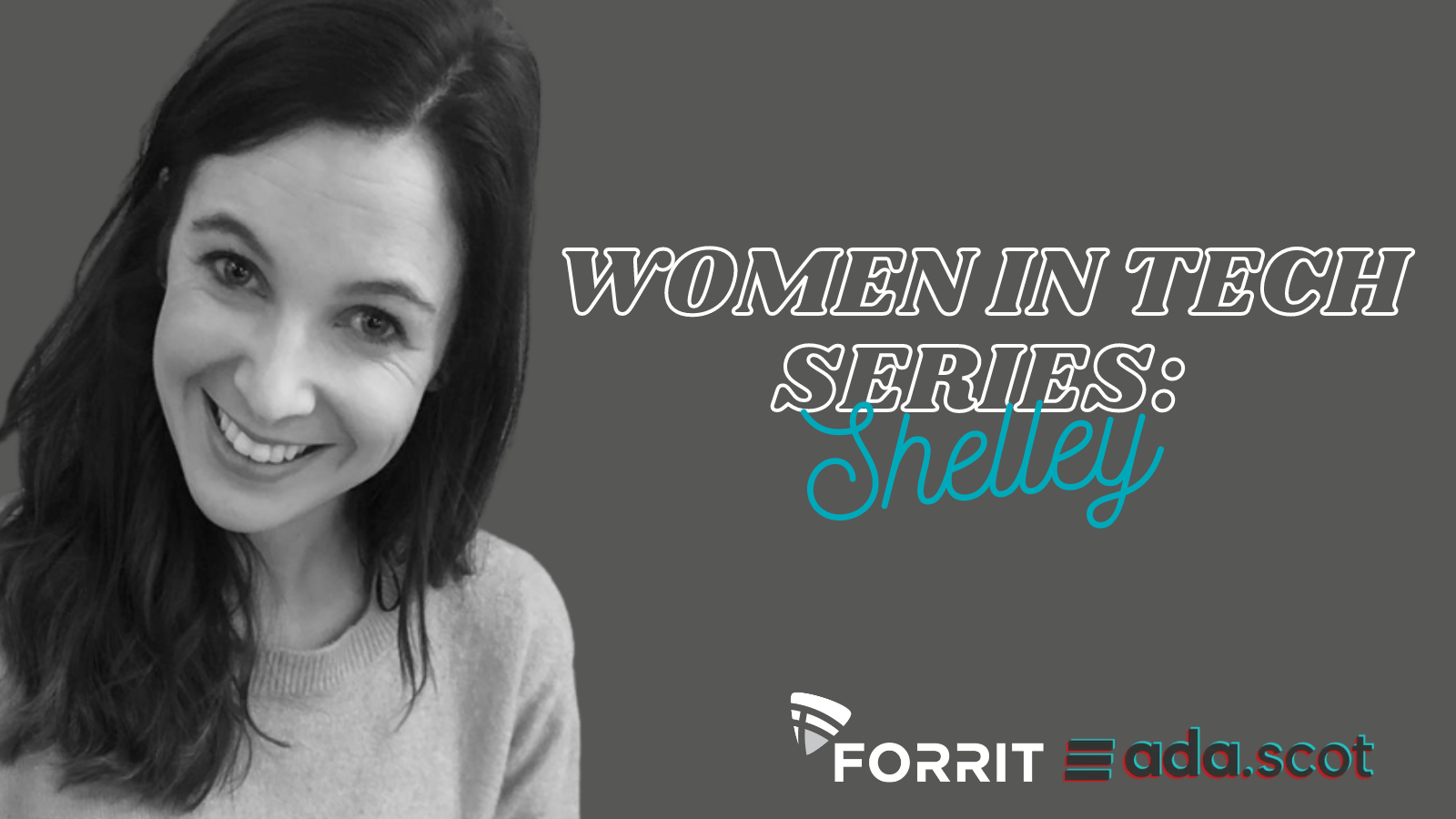 Q&A with Shelley
Can you share a little bit about what you do at Forrit and what a typical day for you is like?
I'm Forrit's newest Project Manager (PM) starting just over a month ago. My typical day is varied and full of meetings with my direct team as well as wider third parties and clients. My job is very much about planning, managing and tracking a team of Developers and their work to ensure we can hit our deliverables for our project within a certain timeframe.
Did you always know that working in technology was what you wanted to do?
I fell into the tech industry by mistake, I studied media at university and was planning a career in public relations, but after arriving in London I found there was a real shortage of paid junior roles in PR and I found myself in digital recruitment. After two years of working in technology and digital marketing recruitment I had learnt a lot about the industry and wanted to try my hand at it.
Who inspired you and why?
I was fortunate to be offered an opportunity with a digital agency working as an Account Executive managing the websites for some big household names. I was a wildcard option with no direct experience but the MD at the time decided to give me a chance after my eager and keen interview. She - which was another driver for me - was not the usual mould for a MD in a male dominated tech industry and I really looked up to her. She became CEO of the business a few years later after a big merger. She is someone I really look up to for her management style - being herself in all areas in a male dominated industry – she didn't blend in she stood out.
What advice would you give to women considering a career in the tech industry?
Do it, do it, do it! I am very proud of being a woman and mum in tech and I feel people are really taken aback when they realise my day job and I love that. I am very proud to be part of this industry and would love to get more females onboard.
What do you wish you had known?
I wish there was something like dressCode when I was deciding on my career, as I think I would have thoroughly enjoyed that and learnt that coding isn't so scary. I would still love to learn more code and further my technical knowledge to impress my development team.
Why is diversity in technology important?
It's so important as I think the stereo type is very much white males sitting behind their screens coding away as you see in the GIFs. But it's really not like that, I've worked with such diverse groups of people - but there's definitely a need for more diversity.
Do you notice a lack of women in technology? If so, why do you think that's the case?
Yes I do. I think there's a stigma that tech businesses and technical roles aren't for girls/women. I know when I started in a technical PM role I was sometimes the only women in the room and felt like I had more to prove. However, I relished the challenge!
What do you believe women need to know/hear/see to consider technology as a career option?
Young women need to see more women in the tech industry to know that they have a place in the space, whether that's in a development role, design, project management or management position. Also, the tech world isn't as scary and daunting as it may seem.
What is some of the advice you would share with women entering the technology industry?
There are so many resources out there to further your skill set and learn from others – ask lots of questions and don't give up on your passion.
Be confident and strive to be different and breakdown those barriers.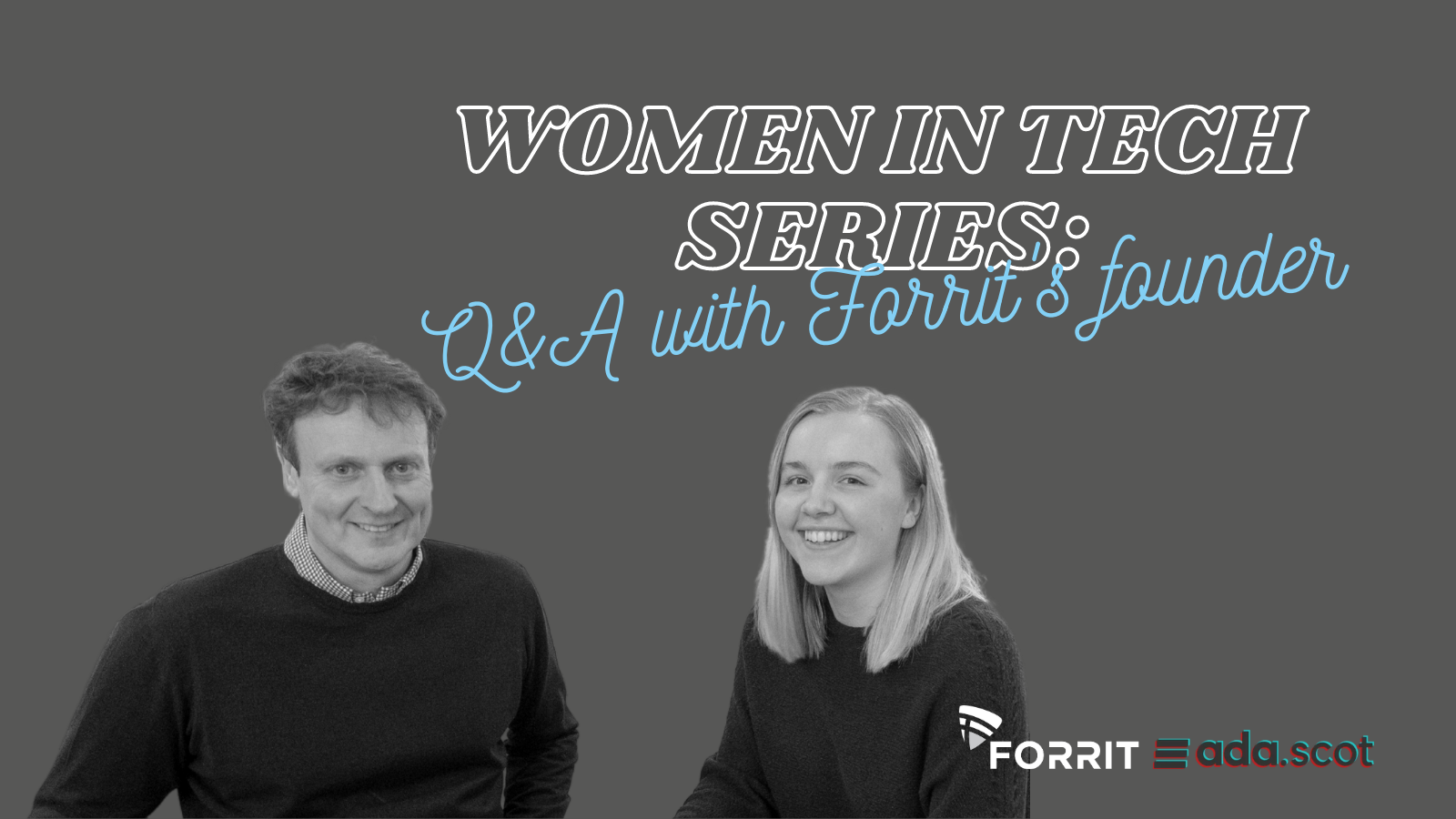 Q&A with Forrit's founder
Why is diversity in technology important?
Software is now a ubiquitous part of our lives from how we bank, drive, socialise and shop to how a large part of society meets their life partners. With this diverse set of users, the people who build the software have to come from a diverse set of backgrounds, life experiences, nationalities and genders. At Forrit we are keen to hire more women and are desperate to see more engineering applicants being female.
Do you notice a lack of women in technology? If so, why do you think that's the case?
One of the areas we struggle with in our industry is the lack of women training to become software engineers. I think our industry suffers from being stereotyped as geeks locked in a bedroom not speaking to anyone and working alone. This could not be further from the truth. Developing enterprise software is a very social thing driven by teamwork, planning, detail and result driven ways of working. I would urge any student, especially female, to look into careers in software and IT. They will be joining an industry where they can thrive and be themselves.
What is some of the advice you would share with women entering the tech industry?
If I was to give one piece of advice to anyone it would be to always be yourself as everyone else is taken (Oscar Wilde).